Soulmates/Les âmes sœurs EN - FR
If I get past the motion sickness (typing and reading in a moving vehicle), I've gotta start writing this. It's been on my mind, for a while now.
Hello there my beautiful people. What's Gucci? Have you met your soulmate?
Tell me sweet something, 2015
For as long as I can remember, I've always thought, with almost complete certainty, that I would end up marrying my soul mate. By fire or by force. Life would not be so cruel as to let me pass that experience. Turns out it's not that simple though is it? What is a soulmate anyways? I purposely didn't look at any definitions before I could decipher my own thoughts.
I reckon a soul mate is someone that keeps your heart company. Not just in any way though. Not violently, but unexpectedly. Gently. In a way that your heart never feels lonely when you are with your soulmate. One soulmate? Because, do we really only have one? My former, very quick answer was that, in a lifetime, we have an unlimited number of soulmates. The ones that we meet are those that are there at the right time and place. There may be a specific number of soulmates we need, in specific periods of our lives. Each one appearing according to our needs of the moment.
Think like a man, 2012
Which raises the question, isn't a soulmate the one that is on time? Where am I going with this…Can a soulmate really pass you by? Be too early? Too late?
***
Here I am, a couple of days later, trying to finish this without reading what I have written above. Why? Dunno. I don't want to confuse myself maybe haha.
New development though. A soulmate doesn't have to be the one that stays in your life for the entire duration of said life. A soul mate makes an impact in your life. Changes it, or rather changes something in you, and is your soulmate, whether he stays or leaves.
Personally, I would much rather a forever soulmate. One person, my person, one lifetime.
What about unrequited love? If a person does not return your love, does that mean they are not your soulmate?
In Love in the time of cholera, Florentino loved Fermina his entire life. That deeply disturbed me.
The thought of chasing a heart that does not beat for you yet living with the conviction that only their heart makes yours live. To Florentino Ariza, his heart would remain empty, until Fermina Daza was the one returning his love. Would Fermina have been considered his soulmate, had she not ever returned his love?
Chuck and Blair, Gossip Girl,2007
Before I ask myself an additional load of questions, let me say this, I am sure of one thing: Soulmates communicate with one another on other levels then just verbally or physically. For lack of a better word, I'll say, spiritually. They communicate with one another before the everyday stuff even kicks in sometimes.
"I think I've found my soulmate. We barely know each other, and I don't know that we have much to say to one another… yet" She said, half finding herself stupid, for the feelings she was unable to explain.

"That's the thing though" a reply came, speaking in a matter of fact-ly way. "He is your soulmate. Your souls have already connected. Getting to know one another, surely, that will come later."
Until next time, Bisous,
Meg
Oh, I almost forgot, how does the internet define a soulmate? Google says: "A person ideally suited to another as a close friend or romantic partner". I have no idea why I thought I would get a lengthier definition… This article looks quite interesting. Okay, Bisous, for real this time 😊
EN
FR
Je me mettrai à écrire ce qui me trotte dans la tête depuis un moment, si j'arrive à me remettre du mal des transports.
Bonjour les amis. Ca va? Avez-vous rencontré l'âme sœur ?
J'ai toujours été quasiment certaine que je finirais par épouser mon âme sœur. Par le feu ou par la force. Le destin ne serait pas cruel et me laisserait vivre cette expérience. Il s'avère que ce n'est pas si simple, n'est-ce pas ? Qu'est-ce qu'une âme sœur de toute façon ? Je n'ai pas regardé les définitions afin de pouvoir dechiffrer mes propres pensées d'abord.
Je pense qu'une âme sœur est quelqu'un qui nous tient compagnie en réconfortant notre cœur. Mais pas n'importe comment. Pas violemment, mais inopinément. Doucement. De manière que notre cœur ne se sente jamais seul quand nous sommes avec notre âme-sœur. Une âme sœur ? Est-ce qu'on n'en a vraiment qu'une seule ? Je pense que, dans une vie, nous avons un nombre infini d'âmes sœurs. Celles que nous rencontrons sont celles qui sont là au bon moment et au bon endroit.
Il y a peut-être un certain nombre d'âmes sœurs dont nous avons besoin à certaines périodes de notre vie. Chacune apparaissant selon nos besoins du moment.
L'Arnacoeur, 2010
Ce qui donne lieu à la question suivante, une âme sœur n'est-elle pas celle qui est là au bon moment ? Où est-ce que je veux en venir avec cette histoire ?
Est-ce qu'une âme sœur peut vraiment nous passer sous le nez? Serait-il trop tôt ? Trop tard ?
***
Me voici, quelques jours plus tard, en train d'essayer de finir ce que j'ai commencé à écrire sans me relire. Pourquoi ? Je ne sais pas. Je ne veux pas m'embrouiller, peut-être, hihi.
Quoi de neuf ? Une âme sœur n'est pas forcement celle qui reste dans notre vie pour toujours. L'âme sœur a un impact dans notre vie. Elle la change, ou plutôt change quelque chose en nous, c'est notre âme sœur, qu'elle reste ou qu'elle parte.
The Wedding Party, 2016
Personnellement, je préfèrerais une âme sœur pour toujours. Une personne, ma personne, toute une vie.
Et l'amour qui n'est pas réciproque ? Si une personne ne nous rend pas notre amour, cela signifie-t-il qu'elle n'est pas notre âme sœur ?
Dans L'Amour au temps du choléra, Florentino a aimé Fermina toute sa vie. Cela m'a profondément troublée, cette idée de poursuivre un cœur qui ne bat pas pour moi tout en vivant avec la conviction que seul ce cœur fait battre le mien.
Pour Florentino Ariza, son cœur resterait perdu jusqu'à ce que Fermina lui rende son amour. Et si elle ne l'avait jamais aimé, aurait-elle été son âme sœur ?
Avant de me poser des tonnes de questions supplémentaires, permettez-moi de dire ceci, je suis sûre d'une chose : les âmes sœurs communiquent les unes avec les autres à d'autres niveaux, pas seulement oralement ou physiquement. Faute d'un meilleur mot, je dirais, spirituellement.
Elles communiquent les unes avec les autres avant même que les choses ordinaires de tous les jours n'entrent en jeu.
Guess who, 2005
"Je crois que j'ai trouvé mon âme sœur. Nous nous connaissons à peine et je ne sais pas si nous avons beaucoup de choses à nous dire... pour l'instant" dit-elle, se sentant un peu stupide pour les sentiments qu'elle ne pouvait pas expliquer.
"Mais c'est ça justement", lui répondit-on de manière tout à fait naturelle. "C'est ton âme sœur. Vos âmes sont déjà liées. Apprendre à se connaître, sûrement, cela viendra plus tard"
A la prochaine, bisous,
Meg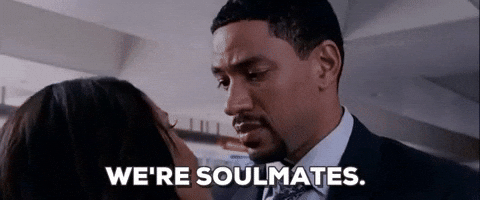 Oh, j'allais oublier, comment Internet définit-il une âme sœur ? Selon WIKIPEDIA, en Français cette fois si, "l'ame sœur est un concept qui évoque une compatibilité amoureuse qui serait parfaite entre deux individus. L'expression, passée dans le langage courant, a des définitions variables qui ramènent toutes à l'idée selon laquelle ces individus ont pour destin de constituer un couple". Tien tiens, pas de concepte d'âme sœur en amitié pour les francophones ? Cet article du Huffington Post m'a lair interessant. Ok, bisous, pour de vrai cette fois 😊